Sculpting Stands
Adjustable Sculpting Stand
This stand is equipped with an 24" square top and will adjust from 36" to 51" from the ground. The stand has two adjusting points to allow the stand to swivel or remain stable. It is both durable and mobile as it is made out of steel and sits on 4" heavy duty casters lockable casters. It is made to come apart for travel or storage. Made in Loveland, CO SHIPS UPS ONLY- Size exceeds US Mail standards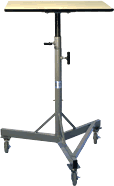 HEAVY DUTY CRANK STANDS ARE BACK!
We are glad to announce the the Heavy Duty Crank Stands are back in stock!

This stand, made of steel, adjusts simply with a hand crank. The stand adjusts from 36" to 51" and has a 24" top. Square and Round tops are available. The top spins or is made to lock. The stand is a light gray with a white melamine top. Sits on heavy duty 4"lockable casters. Rated to handle 750 pounds. Disassemble for storage or travel. Made in Loveland, CO

SHIPS UPS ONLY- Size exceeds US Mail standards. Handling charge is for the foam packed box for shipping.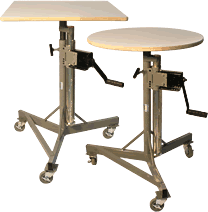 Tool Tray for Heavy Duty and Adjustable Stands
This is a metal 12" x 6" x 1" tool tray designed to mount to the heavy duty crank stands. It will mount on either side of the post. The tray can be mounted on the Adjustable Stand as well. *Heavy Duty Crank Stand not included.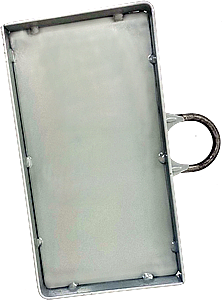 Turntable Sculpture Stand
Designed for beauty and function, this stand can be used for display as well as work. This unit is made of black varnished and chrome plated steel and has a 23" wide base. 12" diameter top. Its height adjusts from 25" to 40". Legs fold for storage. Made in Italy NEW lower price - very stable and great quality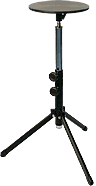 Information about Shipping and Handling charges on stands:
Due to the size and bulk of some of the larger stands handling charges apply. This handling charge will be displayed as s/h under the item price during checkout. This charge is to cover packing, handling, and some of the shipping charge do to the larger sizes of the packing requirements. Shipping is in addition to handling. No handling charge for Local Pickup. If you have a question about this please feel free to give us a call.