Apoxie Sculpt
Designed for creating special effects, filling in cracks and seams, bonding pieces together, fabricating parts, creating dioramas, and creating relief maps. Available in black, bronze, brown, and white. Colors available by special order.
FIXIT® Sculpt
FIXIT® Sculpt is an extremely versatile product that combines the features and benefits of modeling clay with the industrial strength & adhesive power of epoxy! Its clay like feel resists sagging and drooping; holds small details & impressions extremely well. Its firm/fine grain texture backed with fiber technology is great for many uses ranging from detailed & intricate sculpting to a multitude of repairs. Generous 4 hour working time allows you to achieve your finest details.
Apoxie Paste - All purpose adhesive
Apoxie Paste is an innovative adhesive medium used to permanently fill, bond, seal, customize and fabricate most materials. This all-purpose 2-part paste is safe and easy to use. Batter-like consistency is stir-able, yet thick enough that it tends to stay put. When dry it's slightly translucent. It can be tinted with pigments. Smoothes with water to a semi-gloss finish. Waterproof.
Critter Clay - Self Hardening
The #1 choice of taxidemists and art professionals worldwide because of its great detail, its fine texture and its low shrinkage rate (0-1%). Critter Clay is a very safe, 1-part water-based modeling clay that is moist, ready and easy to use right out of the package. Cures by air in 2-6 days depending on the project size. Accepts paint. Great for ceramic prototyping and intricate work.
FIXIT® Paste
FIXIT® Paste is a 2-part paste used to permanently repair, bond, cast & seal most anything. Self-leveling batter-like consistency is stir-able, can be spread thick or thin for durable surface coat. Tint with pigments to create or match desired color. Safe alternative to fiberglass & other casting resins, works great with flexible molds. Cures to a rock hard, semi-gloss finish that can be sanded, drilled, machined or painted. Outdoor & marine applications; stands up to UV rays; is impervious to water, fuels & chemicals. Patch holes & cracks, seal leaks (non-conductive, safe to use with potable water). Working time of 1-3 hrs. Full cure 24 hrs. FIXIT® Paste is non-hazardous, waterproof, with 0% shrinkage. Adheres to metals, wood, most plastics, PVC, fiberglass, stone, ceramic & more. Tackle your toughest repair jobs!
Apoxie Safety Solvent
Aves Safety Solvent is recommended for tooling, smoothing, texturing and quickly cleaning Apoxie and FIXIT products, as well as, other epoxies. Useful for cleaning tools, brushes and surfaces before setup and will also remove other sticky substances. This is a safe alternative to acetone and other commonly uses toxic solvents.
Castilene Modeling Compound from Chavant
Working with Castilene
Hard Castilene will remain malleable while working if kept warm. All three hardness are compatible with one another. Hard Castilene can be used as an armature and soft or medium Castilene can be applied on top of the hard. All generic wax tools and wax carving methods are compatible with Castilene. Heat tools before carving. Chill Castilene to achieve optimum hardness for high detail and burnishing.
Models like clay
Works like wax
3 Hardnesses
Self supporting without armature
Lightweight; 40% lighter than Plasteline
Hard grade for armatures and sharp detail
Medium grade for detailing and modeling
Soft grade works like clay
Non polymerizing
Sulfer Free
Is compatible with silicones and other rubbers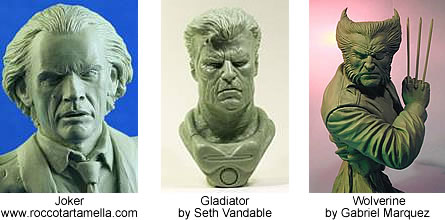 Clayette by Chavant
Clayette is a new line of professional modeling clay that is softer, remarkably non-sticky, smooth, and easy to work with. It is non-toxic, non-drying, sulfur free, and odor free. Appropriate for most modeling applications, sculpting, and mold making. Available in soft, medium, and hard. Tan in color.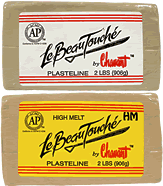 Le Beau Touché and Le Beau Touché High Melt
Le Beau Touché is a sulfur free, extremely smooth and flexible plasteline with exceptional adhesive qualities. The high melt (HM) formula is less sensitive to heat variations and is suggested for use where the working environment is expected to exceed 90° F. HM is slightly firmer and less tacky than the original Le Beau Touché. Available in green, cream, and brown.

Discount on 6 or more cases.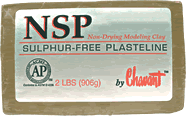 NSP (Non Sulphurated Plasteline)
NSP is a line of professional, sulphur free sculpting clays. Replacing sulfur minimizes difficulties associated with mold making with silicone rubber. Can be melted or poured at approximately 185° F. Available in soft, medium, and hard, green, brown, or tan (available in soft or medium only).

Discount on 6 or more cases.
J-Mac Classic Clay
The manufacturer of Classic Clay and pouring wax, 2AB56, 2AB55 and 2R738 has made some big changes in their company policies.

Products now have to be purchased from distributors.

We have been a distributor for 14 years. We keep a good stock of these items and can easily get any items not in our inventory. If you are in need of large quantities of any Paramelt products, please don't hesitate to call us for possible discount and shipping quotes. 970-663-5190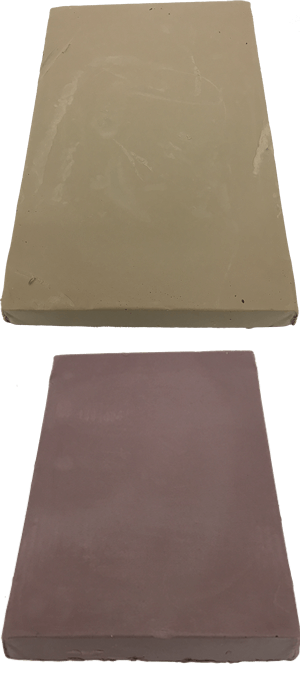 J-Mac Classic Clay - 2AB200 Series
The original sulfur-free J.F. McCaughin (J-Mac®) Classic® Clay for professional sculptors is available in three hardnesses and two different colors. It is easy to work with and requires minimal armature support. Classic Clay is compatible with many molding rubbers and can be heat-controlled to vary working hardness. Soft available in Tan only.
Call for discount pricing and shipping on 500 lbs. or more
2AB200 - Brown, Firm
2AB210 - Brown, Medium

2AB220 - Tan, Firm
2AB225 - Tan, Medium
2AB250 - Tan, Soft
Clay slabs and cases vary in weight.
Slabs are approximately 10 pounds and 9" x 14" x 2".

Discounts are available when you order more then 5 cases.
Call for shipping quotes via freight.
Water Based Clay
Rocky Mtn Clay's CT-3 Whiteware is a smooth, strong, bright white earthenware clay body that is excellent for a variety of applications where a smooth texture is desirable. CT-3 is a low fire clay without any grog. Cone 06-02.