Mini Ribbon Sculpting Tools - Set of 6 tools
Miniature sculpting tools made of fine ribbon steel heat treated for maximum strength. Firmly set in 1/4" diameter handles by 5" aluminum handles.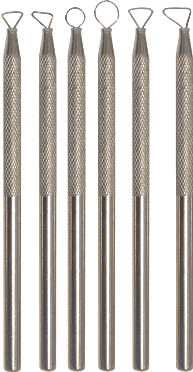 Thin Line Tools
For miniature modeling and fine detail on faces, for incised design, or for sgraffito. Steel cutting ends for clean sharp modeling. Tool # 609 and # 611 are available in sets only.